I write fiction, short stories, and novels. You find links to buy my novel or short story collections below in addition to links to my full bibliography.
CHEMO

: How I Learned to Kill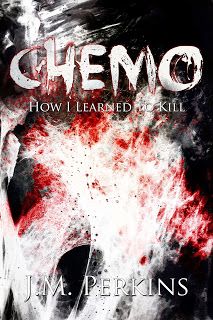 Funded via a successful Kickstarter, CHEMO: How I Learned to Kill is my Badass Action-Horror novel that's been published, podcasted, and adapted.
'With Tooth and Nail, with Gun and Blade I've come.' So begins the 8th battle Hymn, a biofeedback device Agent Joseph recites daily. As the newest recruit Joseph and his fellow agents fight 'cancers of the body of mankind:' everything from insane telekinetics to memetic pathogens to a lovecraftian abomination budding in the deepest, blackest trench of the Pacific ocean.
Through every mission he will rely on his conditioning, his growing ruthlessness and the support and guidance of the man who saved his life – Master Agent Burke. But when Burke is forcibly inducted into the all-as-one hive mind, Joseph -and the organization he reluctantly serves- will have to face the most dangerous enemy yet.
You can download artwork here I owe a ton of people the associated artwork and music — check out the full attribution/credits page.
You can download a 5 Chapter Sample or check out the book trailer.
Love, Werewolves & Algorithms
Buy on Smashwords | Buy on Amazon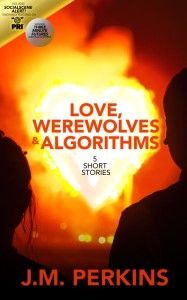 Love, Werewolves & Algorithms is a collection of five love themed, valentines day [in]appropriate short stories intended to be enjoyed in a single afternoon. These stories have previously been featured in print anthologies, podcasts, on Public Radio International and have gone on to win the Three Minute Futures writing contest.
In Subject: SocialScene Alert! next year's social network predicts and 'solves' your relationship problems before they happen.
In The Taste of Soured Causality the desire for romantic second chances in a modern, magic rich world is complicated by scheming D'Jinn.
In Little Blue Pills 'natural male enhancement' meets transhumanism.
In Sponsor a 12 step support group for werewolves collides with a marriage.
And finally in Ignoring the Overlay teenage infatuations and networked augmented reality make for an awkward first date.
Praise for J.M. Perkins's work:
"With his restless imagination and incisive intellect, J. M. Perkins brings something almost wholly unique to the table of genre fiction. All of his work, even his fantasy tales and gaming excursions, edge into science fiction of a distinctive stripe — because his preferred science is the 'dismal science' of economics. His acute perceptions of the transactions and exchanges of everyday existence imbues virtually everything he writes with a revealing new perspective on the complex Über-Game that we call Human Life." — Steve Dandois — Canyon Design Group
"One of our favorite writers…" -Robert Heminger — The Avalon Game Company
"J.M. Perkins is superlative." — Brett Jackson — Creator, BEDTIME FOREVER
Buy on Smashwords | Buy on Amazon
Mummies, Masks & Superpowers!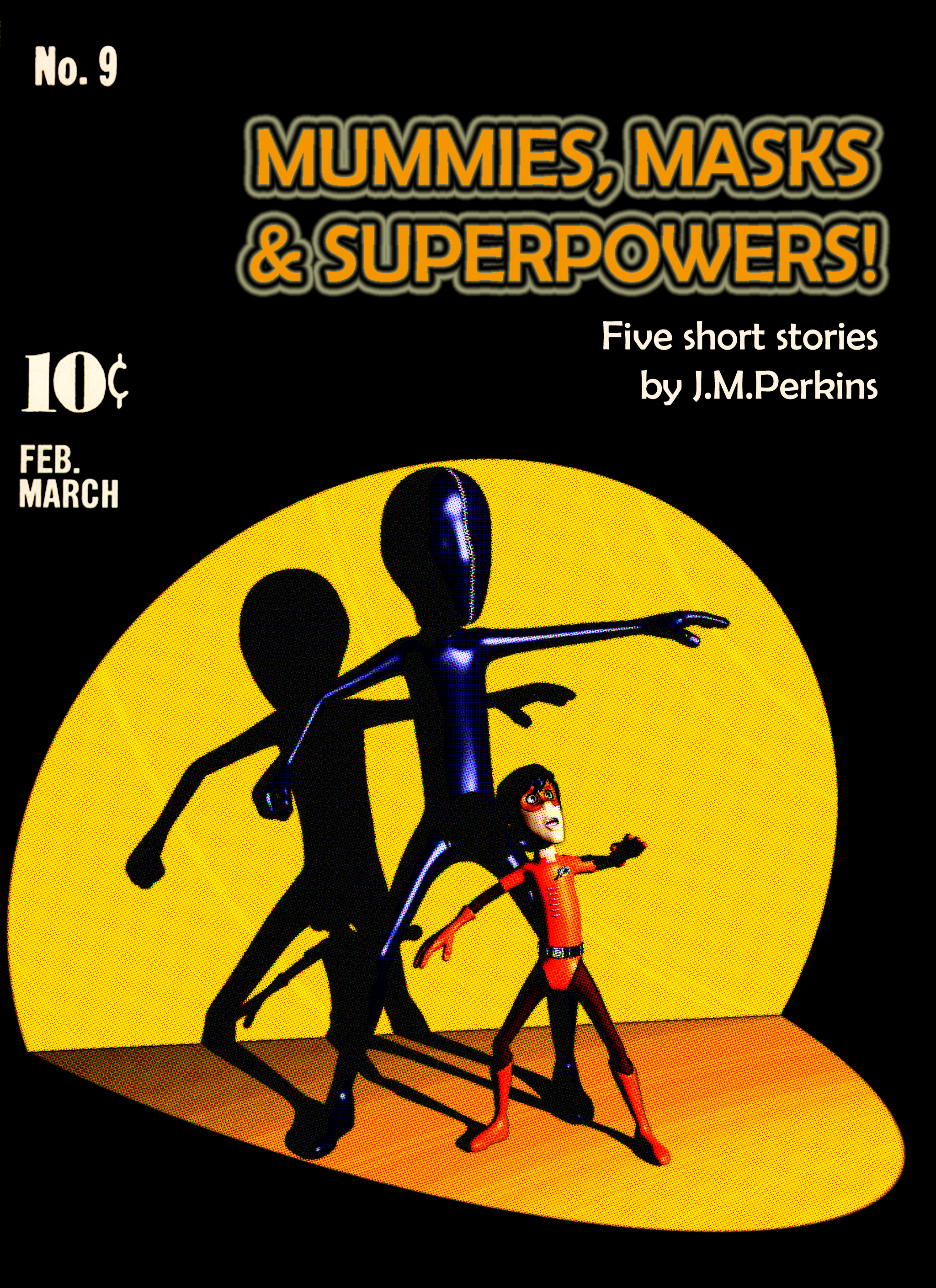 Mummies, Masks & Superpowers! is a collection of superhero themed short stories intended to be enjoyed in a single afternoon. These tales have previously been featured in print anthologies, podcasts, and more. They are collected here for the first time in a single volume.
In Origin Story a desire for 'real' danger twists the emergence of new superpowers: you can listen to a full cast audio production of the story on the Dunesteef Audio Fiction Magazine.
In In the Defense of Mummies: By Doctor Genocide a veteran super-villain pontificates on proper henchmen selection.
In I Reach Behind my Utility Belt for my Tools: Garrote, Ka-Bar, Glock a government agent sidekick compensates for the limitations of his superhero's 'problem solving.'
In Dr. Genocide and the Five Stages of Grief an unexpected success leads a super-villain into depression and despair.
And finally in Field Exercise two trainee superheroes have to learn to work together if they're ever going to be cleared for active duty.
Other Publications
Sponsor – Luna's Children: Full Moon Mayhem
In the Absence — The Girl at the End of the World
The Children's Crusade — The Crimson Pact
In the Defense of Mummies — A Method to the Madness
Underneath — Fear's Accomplice (Volume 1)
Worlds Weary – Superhero Monster Hunter: The Good Fight
SocialScene Alert! — To the Best of Our Knowledge (Winner of the 3 Minute Futures Writing Competition)
I Reach Behind My Utility Belt for My Tools: Garrotte, K-Bar, Glock – Black Denim Literary
Dreaming of Honey — Blight Digest
Earth Day — Stupefying Stories Presents
Bloom – The Literary Hatchet Issue 8
Dr. Genocide and the Five Stages of Grief — Alien Skin Magazine
Ignoring the Overlay — 365 Tomorrows
How Zombies Saved the Planet — Microhorror
Little Blue Pills — 365 Tomorrows
Mimes – The Drabblecast
In the Defense of Mummies — Mad Science Journal, Reprint
Ignoring the Overlay — (Podcast version via StarShipSofa)
Field Exercise — The Dunesteef Audio Fiction Magazine
Bloom will be appearing in Fiction Terrifica (Reprint)
CHEMO: The Condemned — Dunesteef Audio Fiction Magazine
CHEMO: The Town of Golden Woods — Dunesteef Audio Fiction Magazine
CHEMO: The Town of Golden Woods — 19 Nocturne Boulevard